White House Healthy Campus Challenge honors USF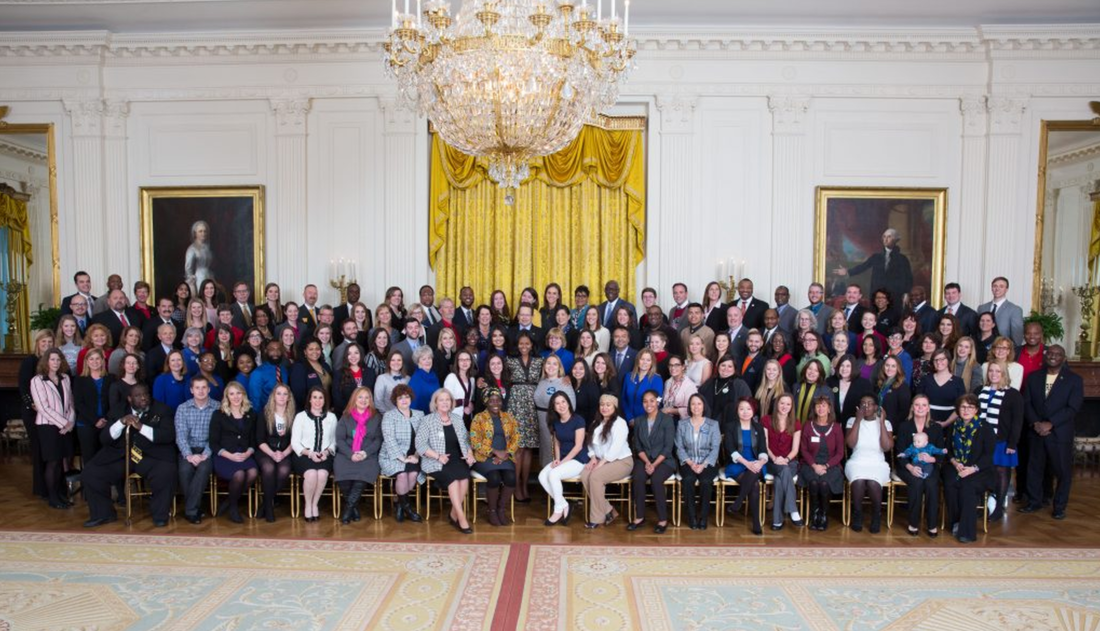 Reprinted from USF College of Public Health News, February 8 2017
On January 13, Jodi Ray, director of Florida Covering Kids and Families (FL-CKF) , and members of her team visited the White House for a formal award ceremony honoring 50 of the campuses who took part in the White House Healthy Campus Challenge.
The USF College of Public Health's FL-CKF program is the largest Navigator program in the nation, with USF receiving a total of $21 million over the past four years to operate the program.
Navigators provide outreach and enrollment services to anyone looking to enroll for health care coverage in the Federal Health Insurance Marketplace.
Ray enrolled USF in the challenge, a national effort to focus more engagement toward students and young people on getting enrolled in health coverage, at the beginning of this year's open enrollment period.
According to Ray, the White House was hoping that at least 40 campuses would sign-up for the challenge, however a total of 350 other campuses across the nation took part in the effort.
Ray and her team of USF Navigators held various health care enrollment events on the USF campus, known as "Nav-Labs," where the campus and community were free to speak with Navigators for enrollment assistance on the spot.
She said they also expanded their reach through strategic social media campaigns and messaging.
"The White House told me they designed the initiative [challenge] after our project," Ray said. "I had no idea they were watching us this closely."
Ray said she submitted a comprehensive summary of activities her team took part in to reach students, including details of enrollment engagement efforts at Hillsborough Community College, Eastern Florida State College, Miami-Dade College, and others across the state.
"We decided to capture not just what we were doing within the USF community, but how the USF grant was doing this with other campuses around the state," she said. "We were so broad in terms of our campus challenge outreach. We wanted everyone engaged with this effort, so while we do a lot with the USF campus, we talked about all of the work we've been doing."
The White House officially recognized a select group of the campuses that took part in the challenge with a certificate of honor.
While there, Ray was also asked to speak on a panel, which was live streamed via the web, to discuss millennial enrollment trends, a group that Ray said is typically the slowest to enroll in health care coverage.
​
Former first lady, Michelle Obama, also met with the group for a photograph and an informal meet and greet with attendees.
Ray said that while there are talks of repealing the Affordable Care Act, she is proud to know that it has helped millions obtain coverage.
"I hope they [Congress] can get beyond the philosophical and political and work to make it even better," Ray said. "We know 20 million have enrolled in health insurance that didn't have it."
Open enrollment ended on January 31, however, the special enrollment period is now open. For more information about obtaining coverage in 2017, visit www.CoveringFlorida.org or call a USF Navigator at 877-813-9115.
Story by Anna Mayor, USF College of Public Health