USF to Host Health Care Enrollment Event – January 24, 2017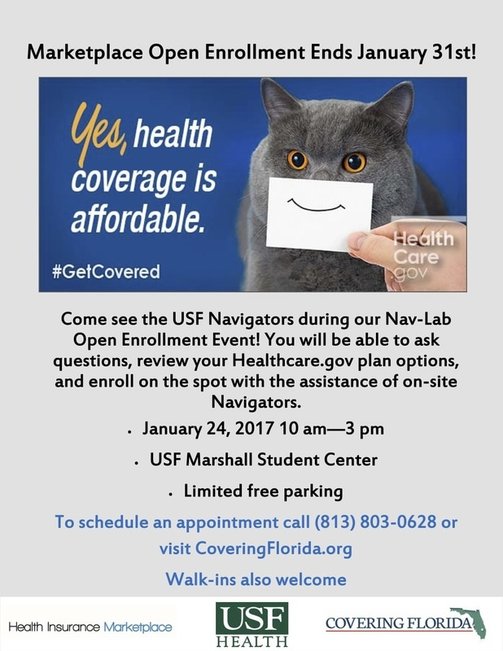 The ACA is Still Available and Open Enrollment Ends Soon! 
The Event is Free, with In-Person Enrollment Assistance, Free Flu Shots, Immunizations, Blood Tests, and Gifts
Tampa, Florida – University of South Florida (USF) health insurance navigators and community partners are hosting an on-site, free, community outreach and enrollment event that is open to the entire USF campus. Participants can learn about the 2017 health insurance Marketplace plans, prices, changes, as well as financial assistance that may be available. Open enrollment began on November 1 and ends on January 31, 2017. Attendees can also get free flu shots, blood tests, immunizations, HIV education and screening, and free gifts!
Over 1.6 million Floridians have signed up so far this open enrollment cycle. The health care law is still on the books and available to consumers. 89% of Floridians signed up for Marketplace coverage will receive advanced premium tax credits that lower their premiums by an average of $323 per month.
WHO: USF Health navigators, Family Healthcare Foundation, Enroll America, USF Student Health Services, Hillsborough County Health Department, USF Health, Metro Health, Wellness, & Community, and USF student organizations.
WHAT: Health Care Open Enrollment Event including free, unbiased enrollment assistance, free health screenings, blood tests, education, free gifts, and much more.
WHEN: Tuesday, January 24, 2017
from 10:00 a.m. to 3:00 p.m.
WHERE: USF Marshall Student Center
   4103 USF Cedar Circle
               Tampa, FL 33620
​
"Nav-Lab" walk-ins are welcome, but registration is recommended because parking is limited. For more information or to register, please call (813) 803-0628.
In addition to on-site, free enrollment assistance, #CoveringFloridaByJAN31 will be a passport event, where individuals can pick up a "passport" at the enrollment sign-in table and collect stamps from #CoveringFloridaByJAN31 vendors. Event vendors will include: The Hillsborough County Health Department, who will provide free flu, Tdap, PSV23, and HVP immunizations; USF Health, who will provide free blood glucose and blood pressure screenings; CW 44 will be providing giveaways from their shows; MOSI; Metro Health, Wellness, & Community, who will provide free HIV education and testing, and USF student organizations. Completed passports can be turned in for free gift at the Covering Florida health insurance Marketplace education table.
​There will be very limited free parking spaces within Lot 3B off USF Holly Drive. These spaces will be marked off as reserved for this event only. Visitors parking on the USF-Tampa campus are required to purchase a daily parking permit. Parking pay station is located off USF Cedar Drive, Lot 5A. Daily parking for the Marshall Center is located within the Crescent Hill Parking Garage or Lot 3B and 3C off USF Holly Drive. There is also a sheltered Bull Runner Stop USF Cedar Circle, immediately in front of the Marshall Center.
People who would like to sign up for health coverage should bring the following: health insurance Marketplace account information (including password) or an email address, social security number, income information, identification, naturalization, or immigration documentation.
-USF Health-
USF Health's mission is to envision and implement the future of health. It is the partnership of the USF Health Morsani College of Medicine, the College of Nursing, the College of Public Health, the College of Pharmacy, the School of Biomedical Sciences and the School of Physical Therapy and Rehabilitation Sciences; and the USF Physician's Group. The University of South Florida is a Top 50 research university in total research expenditures among both public and private institutions nationwide, according to the National Science Foundation. For more information, visit www.health.usf.edu