USF Florida Covering Kids & Families (FL-CKF) Navigators to host November 30th event to assist consumers with enrollment in the Health Insurance Marketplace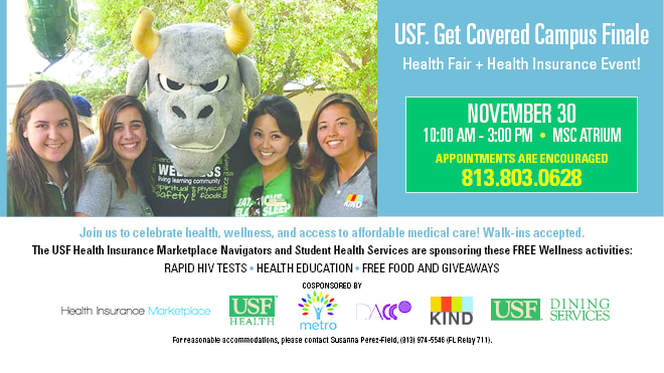 "Nav-Lab" open to USF campus, community; anyone with questions about coverage welcome
Tampa, FL (11/28/2017) — An on-site, free, community outreach and enrollment event to help consumers learn more about their coverage options through the Federal Health Insurance Marketplace will be held 10 a.m. to 3 p.m., November 30, 2017, at the USF Marshall Student Center, 4103 USF Cedar Circle, Tampa, FL 33620.
Navigators from USF Florida Covering Kids & Families (FL-CKF), joined by those from The Family Healthcare Foundation, will be able to assist people with Health Insurance Marketplace enrollment or renewals.  Navigators will offer education about the Marketplace, assist individuals and families with coverage choices and guide those interested in enrolling through the application process.
FL-CKF, a program at the University of South Florida in the College of Public Health was awarded a $4.9 million Navigator grant for the 2017-2018 enrollment period. FL-CKF works with 11 consortium partners across the state to help those who want assistance understanding and enrolling in healthcare coverage available through the Health Insurance Marketplace.
According to Jodi Ray, Director of FL-CKF, "Time is almost up! There are just over 2 weeks left to enroll in affordable health insurance for 2018." FL-CKF Navigators will assist people with completing Health Insurance Marketplace enrollment or renewals and helping individuals understand their plan choices. Navigators will offer free, confidential education about the Marketplace and guide those interested in enrolling through the application process.
The last date to enroll for coverage that begins January 1, 2018 and the final day that 2017 enrollees can change policies before being "auto-reenrolled" in their previous health care coverage plans is December 15, 2017. 
"Nav-Lab" walk-ins are welcome, but registration is recommended, because parking is limited. For more information or to register, please call (813) 803-0628.
Other Important Information:
There will be very limited free parking spaces within Lot 3B off USF Holly Drive. These spaces will be marked off as reserved for this event only. Visitors parking on the USF-Tampa campus are required to purchase a daily parking permit. Parking pay station is located off USF Cedar Drive, Lot 5A. Daily parking for the Marshall Center is located within the Crescent Hill Parking Garage or Lot 3B and 3C off USF Holly Drive. There is also a sheltered Bull Runner Stop USF Cedar Circle, immediately in front of the Marshall Center.
-USF Health-
USF Health's mission is to envision and implement the future of health. It is the partnership of the USF Health Morsani College of Medicine, the College of Nursing, the College of Public Health, the College of Pharmacy, the School of Biomedical Sciences and the School of Physical Therapy and Rehabilitation Sciences; and the USF Physician's Group. The University of South Florida is a Top 50 research university in total research expenditures among both public and private institutions nationwide, according to the National Science Foundation. For more information, visit www.health.usf.edu