Tomorrow, December 15th, Is Your Last Chance For #OpenEnrollment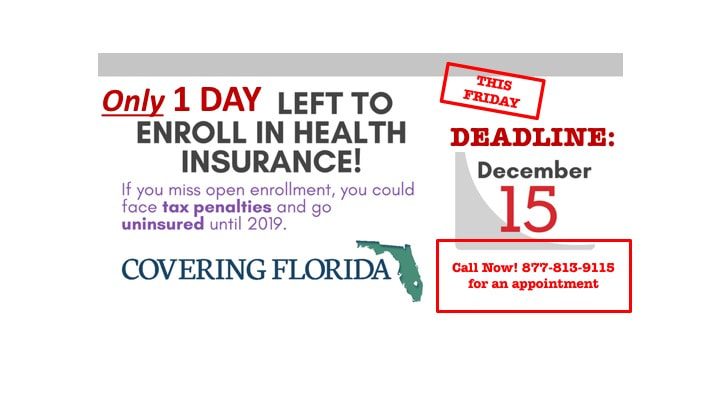 Despite multiple challenges this year, Open Enrollment for 2018 Marketplace Health Care coverage has been an extraordinary success, exceeding all expectations. Once again, Florida leads the US in enrollment figures. Through the first 6 weeks of the allotted eight-week Open Enrollment period, Florida has signed up over 1 Million consumers who will enjoy full health coverage beginning on January 1st.
During these last two days, your Florida Navigators statewide are working long and hard to ensure that everyone gets covered prior to the deadline tomorrow. All of our Covering Florida consortium groups, listed below, are taking appointments right up to the last minute. Call the number above or visit www.CoveringFlorida.org
The Open Enrollment period was cut in half; advertising and outreach was cut by 90 percent. Our success so far has been helped by the extraordinary efforts of our partners in the media and advocacy groups. Heading into the final week, more people have signed up than ever before during this same time. Enrollment has defied expectations. Here's the problem – there is very little time left for people to get covered and because of cuts to advertising, many people still don't know that Friday is their last chance to get covered.
We are making a request that everyone reading this release to please share it with your friends, family, neighbors, co-workers, teachers, butchers, bakers and candle-stick makers, particularly in under-served and non-English language speaking areas. Let's all make sure that anyone who might still need to enroll for coverage is aware of the deadline!
Let everyone know:
TOMORROW is your last chance to #GetCovered for 2018.
Don't waste any time: Go to HealthCare.gov TODAY and sign up for affordable health coverage.
OUR STATEWIDE PARTNERS
90 Works – Serving Escambia, Santa Rosa, Okaloosa, Walton, Holmes, Jackson, Washington, Calhoun, Gulf, and Bay counties
Broward Regional Health Planning Council – Serving Broward County
The Family Healthcare Foundation – Serving Hillsborough, Pinellas, Pasco, and Polk counties
Florida Keys Area Health Education Center, Inc. – Serving Monroe County
Suwannee River Area Health Education Center – Serving Alachua, Bradford, Citrus, Columbia, Dixie, Gilchrist, Hamilton, Hernando, Lafayette, Levy, Marion, Putnam, Sumter, Suwannee and Union counties
Health Council of Southeast Florida – Serving Palm Beach, Martin, Okeechobee, St. Lucie, and Indian River counties
​ Health Council of South Florida – Serving Miami-Dade
Health Planning Council of Northeast Florida – Serving Baker, Clay, Duval, Flagler, Nassau, St. Johns, and Volusia counties
Health Planning Council of Southwest Florida – Serving Charlotte, Collier, DeSoto, Glades, Hendry, Lee, Sarasota, Highlands, Hardee, and Manatee counties
Primary Care Access Network – Serving Orange, Osceola, Seminole, and Lake counties
​ United Way of Brevard – Serving Brevard County
University of South Florida Mobile Navigators – Serving Madison, Taylor, Jefferson, Gadsen, Wakulla, Liberty, Franklin, and Leon counties
The project described was supported by Funding Opportunity Number CMS-CA-NAV-15-001 from the U.S. Department of Health & Human Services, Centers for Medicare & Medicaid Services." "The contents provided are solely the responsibility of the authors and do not necessarily represent the official views of HHS or any of its agencies."
Covering Florida is frequently called upon as an expert in health insurance coverage and health literacy for its ability to reach out to diverse audiences and educate consumers about health insurance coverage and utilization including options under the Affordable Care Act, Children's Health Insurance Program (CHIP), and Medicaid.  Covering Florida reaches consumers through partner organizations and collaborates with hundreds of organizations, many of which provide direct service to thousands of health care consumers. The organization focuses largely on advocating for and increasing access to care and services via enrollment for individuals with limited English proficiency, individuals with disabilities, populations underserved in the current private health insurance market, and vulnerable populations by employing multi-lingual Navigators, producing brochures in multiple languages, conducting workshops, and providing interviews in various languages.
###
For free in-person Navigator assistance state-wide call (877) 813-9115 or visit http://coveringflorida.org/