Tampa Mayor: Opening the Door to Health Insurance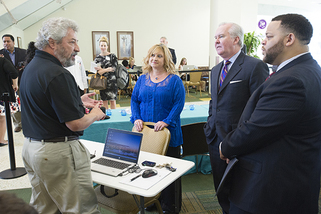 By Bob Buckhorn, Special to the Tampa Bay Times

The city of Tampa is again opening its recreation centers to health care navigators who help the uninsured get coverage under the Affordable Care Act. This is an excellent use of city resources and an example of cooperation between the federal and local government to improve the lives of people in need.
Starting Tuesday, five Tampa recreation centers will open from 4 p.m. to 7 p.m. on Tuesdays and Thursdays to allow people without insurance to speak with navigators. Last year, such efforts resulted in 77,256 new enrollees. But more work remains, as large numbers of Floridians remain uninsured. Earlier this month, President Barack Obama included Tampa in a national challenge to 20 communities with the greatest potential for impacting the uninsured. The community that signs up the highest percentage of new enrollees will win a visit from the president. But the real victors will be the newly insured who no longer have to rely on emergency rooms for basic medical care.
Opening recreation centers to the public — at no cost — is the latest in a series of smart, proactive efforts by the city and other institutions such as the University of South Florida, which recently won a $5.9 million navigator grant to train public health workers around the state. People who still need health coverage should take advantage of the outreach efforts, which will take place at Tampa recreation centers through Jan. 31. For more information on the Affordable Care Act or to sign up, visit HealthCare.gov or call 1-800-318-2596.