Sunday Deadline Looms to Sign Up for Obamacare and Avoid This Year's Higher Penalty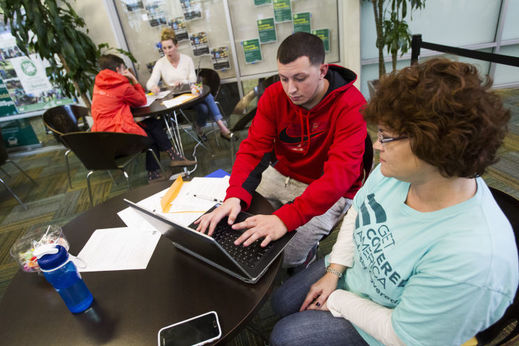 By Kathleen McGrory, Tampa Bay Times
TAMPA — Dustin Rogers was sure he had missed the deadline for enrolling in an Obamacare plan this year — until a patron in the Tampa bar where he works set him straight last week.
"The deadline isn't until Jan. 31," the barfly said between beers.
Rogers, 30, made it a point to attend an open enrollment event Wednesday at the University of South Florida. Signing up was a relief, he said, not only because he can now see a doctor, but because he won't have to pay the $695 tax penalty for not having coverage.
"I feel like there's some weight being lifted off my shoulders," he said.
With just four days to go until the end of open enrollment, consumers throughout the Tampa Bay region are scrambling to buy health insurance plans on the Affordable Care Act marketplace. There's still plenty of help available to them; health care advocates and insurance companies have scheduled events to help consumers choose their coverage.
"It's one of those things people put off until the very last minute — like filing their taxes," said Shannon Almadrones, a regional organizer for the nonprofit Enroll America. "But we want people to know that there's still time and we're here to help."
So far, 261,849 residents in the Tampa Bay region (including Sarasota) have signed up for coverage through the Affordable Care Act marketplace or had their existing plans automatically renewed, according to the Centers for Medicare and Medicaid Services.
Florida continues to lead the nation in enrollment, with 1.6 million people statewide having already selected a plan. Nationally, the figure is about 11.5 million people, according to federal health officials. It is expected to rise to about 13 million by the end of open enrollment.
Confused about Sunday's deadline? You aren't alone.
Only 7 percent of participants in a recent Kaiser Health Tracking Poll of uninsured Americans correctly identified January as the deadline to enroll in a marketplace plan.
The confusion likely stems from Obamacare's rolling deadlines. Consumers had until mid December to sign up for coverage starting Jan. 1, and until Jan. 15 for coverage starting Feb. 1.
Sunday is the final deadline. For those last-minute shoppers who purchased a health insurance plan between Jan. 16 and Jan. 31, coverage will start March 1.
Observers expect the last few days of the open enrollment period to be busy, in part because the penalty for not having coverage is increasing to $695 or 2.5 percent of household income, whichever amount is higher. The tax penalty for 2015 was $325 or 2 percent of household income.
Tampa Bay area consumers won't be on their own. The nonprofit Family Healthcare Foundation is offering free assistance from 9 a.m. until 3 p.m. Saturday at the Hillsborough Community College Ybor Student Services Center.
In addition, health insurance company Humana will hold enrollment events Friday and Saturday at Citrus Park Town Center in Tampa and Tyrone Square Mall in St. Petersburg. And Florida Blue will keep its retail centers throughout the region open "as late as needed to help people get coverage," spokeswoman Christie Hyde DeNave said.
Beatrice Pierre-Charles, a 21-year-old USF student, was among those seeking last-minute insurance information at the open enrollment event Wednesday. She had received emails from Healthcare.gov about the looming deadlines — and was worried she would have to pay the penalty.
During her meeting with a health care navigator, Pierre-Charles learned she falls in the Medicaid gap, meaning she is not eligible for Medicaid, but makes too little to qualify for subsidies that help offset the cost of marketplace coverage. She also found out she is exempt from the fine.
Pierre-Charles left without buying an Obamacare plan, but said she will apply for the Hillsborough County health plan for residents with limited means.
"I'm happy that I'm informed about it," she said.
Rogers, the bar employee, was able to find a mid-range silver plan from Ambetter Health that includes dental coverage for $175 a month — a little more than he was hoping to pay, but a "reasonable" cost for insurance, he said.
He's glad he did.
"You never know what could happen," he said.