Obamacare Offers 'First Step' to Health Care for Many LGBT People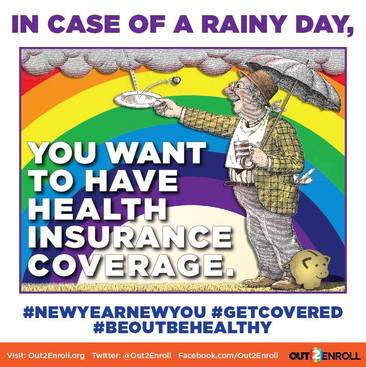 By Naseem Miller, The Orlando Sentinel
After decades of discrimination, Obamacare is helping more members of the LGBT community gain access to health insurance, advocates say.
Earlier this month, federal officials announced partnerships with lesbian, gay, bisexual and transgender groups and organizations, during what they called LGBT Week of Action, to promote insurance enrollment under the Affordable Care Act, commonly called Obamacare.
The health law has provisions such as preventive services and non-discrimination protection for the LGBT population.
"It's the first step in the right direction," for a community that's been marginalized for decades, said Brian Winfield, chief financial officer of Equality Florida, the main statewide organization advocating for the rights of the LGBT community.
For the past three years since ACA enrollments began, the main focus of advocates has been educating the LGBT population through town halls, emails and outreach events about the benefits of the health law and their rights, and then showing them how to use their health insurance.
Researchers say this population is disproportionately uninsured and underinsured and has had worse physical and mental health outcomes compared with heterosexuals. Many have not had access to preventive and routine care, ranging from mammograms to colonoscopies.
Transgender individuals are even more likely to be poor and uninsured compared with their lesbian, gay and bisexual counterparts.
Advocates say it's all been the result of an unrelenting cycle – stigma and societal pressures have led to depression and risky behaviors among LGBT people, laws prevented many from getting coverage through their partner or spouse, and many have not sought care because of fear of stigma and discrimination in health settings.
"The reality is, I believe strongly that the institutional anti-LGBT discrimination we've experienced in this nation has contributed to this increased burden of adverse health outcomes in LGBT people," said Winfield, chair of community leadership for Florida Health Equity Research Institute.
But progress on different fronts – from the anti-discrimination provisions in the health law to legalization of same-sex marriage – is slowly encouraging more uninsured LGBT individuals to seek coverage.
"What's new this year is helping people who are newly allowed to marry to see what their benefits may be and what tax benefits they may get," said Anne Packham, project director of the Marketplace enrollment in Central Florida.
Florida is among 16 states that have not expanded Medicaid, according to the Kaiser Family Foundation, creating what's called a coverage gap. Individuals who earn between 44 percent and 100 percent of the federal poverty level earn too much to qualify for Medicaid and too little to qualify for health insurance subsidies available through Obamacare.
Without Medicaid expansion, they are left uninsured in states like Florida.
"So someone who wasn't eligible for health insurance last year because their income was below 100 percent of the poverty line is now married and can qualify," Packham said.
Kenny Wagner, ACA coordinator at Hope and Help Center of Central Florida, one of the main HIV/AIDS service organizations in Central Florida, has been able to help his newly insured clients set up appointments with specialists such as dermatologists and oncologists.
Previously, the county health department might be their only option.
"The first year it was difficult convincing people to sign up with ACA, most significantly because people were just skeptical about it," Wagner said. "But now we're seeing more client engagement. They see from their peers that have coverage that they're getting better care and their out-of-pocket costs aren't that high."
Another driving factor this year is higher penalties. People who don't sign up for insurance will have to pay at least a $695 fine next year. That's compared with $325 this year.
"We're in a period now that people are getting serious about health care," Wagner said. "People are starting to pay attention to the cost of insurance versus just getting the penalty. And now they're starting to come to us."
The deadline to sign up during this season of open enrollment is Jan. 31.
Resources:
Here is where to get more information about health insurance coverage under Obamacare.