Affordable Coverage Lets Me Take Care of Myself and Others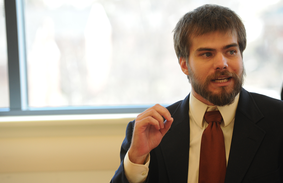 By Nathan Auldridge, Salem, Virginia
I filled my narcolepsy prescription the other day and got a dose of great news.
In 2013, I paid $1,023 for a one month refill of this medication. But this year, thanks to the Affordable Care Act, the same quantity of the same medication cost me just $2.05.
What that means is no more racking up insane credit card debt for medical expenses. No more asking my landlady if I can slide on the rent this month. And no more trying to make a one-month prescription stretch for almost two months!
The costs of my health care coverage have dramatically decreased since I was able to get insurance through the Health Insurance Marketplace. This is because of the income-based tax credits I receive that bring down the cost of my monthly premiums. And the health care law includes protections that bar insurers from discriminating against me because of my pre-existing conditions.
When I was a senior in college, I was diagnosed with a life-threatening brain tumor and had to undergo a craniotomy and six weeks of radiation. The treatments were successful and I was declared cancer-free in 2006. But as a cancer survivor, I faced new health struggles, including the development of narcolepsy.
Suddenly I was very difficult to insure.
I work with special needs adults—a job I'm passionate about—but it doesn't come with health coverage. In 2013, I found a plan on the private market for $483 a month, but even with insurance, my prescriptions and medical expenses cost me more than half of my yearly income of $20,000.
I never could have survived without help from my family. Not everyone is as fortunate as I was. But now, thanks to the Affordable Care Act, we can support ourselves and meet our own needs.
The guys I work with inspire me every day. And now I can continue to help them learn new skills and continue to live in our community in the least restrictive environment possible.
If you have Marketplace insurance or have coverage through your job, be sure to get your annual checkup and preventive care, like screenings for blood pressure, cholesterol and certain cancers, so you can be as healthy as possible. Because of the Affordable Care Act, those preventive services are provided at no out-of-pocket cost.
But if you don't have insurance, you still may be able to enroll now if you've experienced a life change, like losing insurance through your employer or getting married or divorced. You can also get health care at a community health center near you, which charges based on what you're able to pay.
I know that health insurance can be confusing. I certainly wish that I never had to learn as much about it as I did! But the Coverage to Care initiative can help you understand your coverage, and connect you to the care that is right for you.
The Affordable Care Act is helping millions of Americans like you and me get the coverage we need, at prices we can afford. It's helping us support ourselves so we can do the work we were meant to do.