Affordable Care Act's Third Enrollment Season Draws to a Quiet Close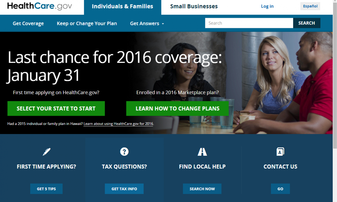 By Amy Goldstein, The Washington Post
Many Americans who don't have health coverage in 2016 face increased fines.
The third open-enrollment season for health plans under the Affordable Care Act moved into its final hours Sunday night with little fanfare from Obama administration officials who had been urging consumers to buy insurance.
It was unclear whether the close of the three-month enrollment window drew any stampede of last-minute shoppers on HealthCare.gov, as was the case during the first two sign-up years. In each of those, federal health officials trumpeted a late surge of people choosing health plans as evidence of Americans' eagerness for coverage.
But on Sunday, the officials provided no figures about the final weekend's volume of traffic on the federal insurance website. Lori Lodes, communications director for the Centers for Medicare and Medicaid Services, reiterated in the late afternoon that "we continue to see an increase in activity." She provided no details. The website appeared to be functioning without problem.
In Florida, one of the top enrollment states in previous years, Jodi Ray of the University of South Florida's Covering Kids and Family program said appointments for help in signing up and walk-in requests were brisk over the weekend. The university initiative received the largest federal grant in the country to assist consumers with getting health insurance. Compared with 2014 and 2015, Ray said, many of the consumers arriving were familiar with insurance basics, so they were eager for more sophisticated details to help decide which plans best-suited them.
Ray said that members of hard-to-reach groups such as Hispanics and young adults — targeted in outreach efforts — accounted for slightly more of Florida's enrollees than before.
The 2016 season is the first open-enrollment period ending on time. Two years ago, when profound computer defects marred the debut of HealthCare.gov, Department of Health and Human Services officials gave consumers a few extra weeks to finish applications. Last year, HHS granted a week-long special enrollment period for people who had encountered technical snags or long last-minute lines — and a six-week special period for people who would otherwise face penalties under the law for being uninsured.
Federal officials have made clear that there will be no extensions for 2016, and they are restricting the special circumstance under which people can enroll at other times during the year — heeding insurers' complaints about customers who come and go unpredictably. HHS was allowing anyone on HealthCare.gov or connected to an enrollment call center at midnight to complete an application. Maryland and California, two states that run their own insurance marketplaces, had earlier announced that anyone with an application underway by midnight has until Friday and Saturday, respectively, to finish up.
The most recent federal enrollment figures suggest that the final numbers are likely to be only slightly larger than last year's. With a week to go, 11.6 million people had selected Affordable Care Act health plans, compared with a final tally of 11.7 million last year. Those figures include everyone signed up for coverage; some will not pay their initial monthly premium and not have coverage take effect.
Congressional budget analysts had predicted that 21 million people would have the plans this year — double what HHS has forecast — but they lowered their numbers last week to 13 million.
Many adults who remain uninsured this year will face fines: $695 per person or 2.5 percent of household income, whichever is higher.